Mrs Maria Ude Nwachi aka Afikpo Chic, member representing Afikpo North East constituency at Ebonyi state House of Assembly was on Tuesday suspended for alleged gross misconduct.
It was reported that Mrs. Nwachi was accused of allegedly posing as public photographer. The motion for he suspension was moved by the Leader of the House, Hon. Joseph Nwobasi.
The House said Nwachi have refused to heed earlier warnings by the Assembly to desist from being a photographer in the state. Nwachi, a former Minority Leader, according to the house by her actions has brought disrespect and dishonesty to herself and the Assembly by posing as public photographer.
She was therefore suspended for 14 days pending the outcome of investigations on the allegations leveled against her by a special committee constituted by the House to investigate the allegations. .
This will be the second time she will be suspended by the House.
Recall that in 2015, Maria Nwachi, was suspended for mobilizing youths to protest epileptic power supply at the Enugu Electricity Distribution Company, EEDC.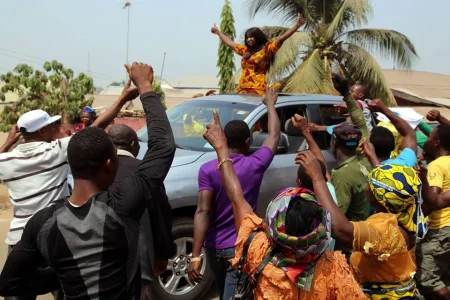 Then the House of Assembly described the action of Hon. Nwachi as unbecoming and contrary to the status of a lawmaker.

The youths of Afikpo had barricaded the entry and exit points into Afikpo town in protest against the epileptic power supply in the area and had petitioned the state government over the black-out.

The protest, which took place simultaneously in Afikpo, Unwana, Ozizza and Amasiri covered two constituencies of the state. During the protest, public institutions including banks and markets were shut down as three vehicles belonging to EEDC were destroyed while staff of the company were sacked from the offices by the irate youths.

<!-comments-button-->