Dear KFBers, we have got loads of interesting stories in tonight's #MajorHeadlinesYouMissedToday feature…enjoy!
Forget 2019 presidency, support Buhari – Okorocha tells Ndigbo
Imo State Governor, Rochas Okorocha has advised the Southeast region to stop talking about an Igbo Presidency until after President Muhammadu Buhari's tenure in 2023.
Okorocha, who is the chairman of the Progressive Governors' Forum, spoke while addressing State House correspondents after a 30-minute closed-door meeting with Acting President Yemi Osinbajo.
Okorocha, accompanied by the Speaker of the House of Representatives, Yakubu Dogara, was reacting to the recent call by former President Olusegun Obasanjo for an Igbo Presidency in 2019.
He said: "What I do know is that Ndigbo should talk about Presidency after President Muhammadu Buhari. I think we should support this government.
"President Muhammadu Buhari has a tenure to work for four years or eight years according to the zoning arrangement, and everybody should follow the zoning although I am not an advocate of zoning."
Okorocha noted that efforts were towards rebuilding the All Progressives Congress (APC) in the southeast.

Ex-Governor's aide shot dead
Unkown gunmen on Sunday night shot dead Ben Onyechere, the former Media Adviser to former Governor of Abia State, Chief Theodore Orji.
A source told the News Agency of Nigeria on Monday in Owerri that Onyechere was kidnapped at about 8pm in Ikenegbu axis of Owerri where he had gone with his driver to do some shopping.
The source, who spoke on condition of anonymity, said: "The gunmen, numbering five, trailed Onyechere to a popular supermarket in Ikenegbu and forced his driver out of his car before they sped off with Onyechere.
The following day, the lifeless body of Oncheyere was found a few streets away from Maris Junction, Ikenegbu, Owerri, after he was shot several times. It is sad."
The source added that the deceased's driver, who put up initial resistance, was shot twice on the legs before Onyechere was kidnapped.
The details of the assassination are still sketchy.
When contacted, the Police Public Relations Officer, Imo State Command, DSP Andrew Enwerem, said he was informed of the incident, but could not confirm the identity of the victim.
Apostle Suleman finally honours DSS invite
Apostle Johnson Suleman, General Overseer of Omega Fire Ministries Worldwide, has finally arrived the Abuja office of the Department of State Services, DSS.
DSS had invited him for questioning over 'inciting' comments he made against Fulani herdsmen.
"He is there now. Those who accompanied him include some Governors, Ministers. I cannot disclose names now.
"But during the day, some leaders of CAN and PFN held series of meeting with Apostle. I'm not sure they will be at the interrogation room." a source said.
Asked why the meeting fixed for 10am delayed for hours, the source said this was because "the DG of DSS will be the one to personally question Apostle hence the shift in time."
It was gathered that the DSS, despite already mounted barricades, has further cordoned off its complex stretching about a kilometre.
Also, security personnel in front of the Yellow House, was increased.
This may not be uncconected with expectation that Apostle Suleman's supporters may storm the vicinity.
Earlier on Monday, Suleman stated the DSS did the right thing by inviting him for interrogation.
Suleman, who stated this while briefing newsmen in Abuja, said "I presume the right thing was done. They have been in touch with me to come and that is why I am in Abuja, so that I can see them".
According to him, his recent statement where he asked his members to kill any herdsman around his church was based on information from a reliable source that herdsmen were coming to attack him.
He said that he stood by his statement on self defence.
"I was talking in my personal capacity on information from a reliable source that certain people in the capacity of herdsmen were coming to attack me and I told the people around me that if it happens they should defend themselves", he said.
US Muslim leaders sue Trump over 'fear-mongering' travel ban
US Muslim leaders filed suit against President Donald Trump Monday over an immigration order that they said was a "fear-mongering" attempt at keeping members of their religion out of the country. Nihad Awad, executive director of the Council on American-Islamic Relations, joined 26 others as plaintiffs in the lawsuit alleging that Trump's temporary ban on immigrants from seven Muslim-majority countries was in fact a "Muslim exclusion order" that violates the US constitution's religious freedom protections. "Donald Trump's executive order is not based on national security, it is based on fear-mongering," Awad said Monday. "This is not a Muslim ban, it is a Muslim exclusion order." Besides excluding Muslim refugees and immigrants from abroad, the suit alleges Trump's executive order will force out US-resident Muslims from those seven countries "by denying them the ability to renew their lawful status or receive immigration benefits… based solely on their religious beliefs." That will lead to "the mass expulsion" of both immigrant and non-immigrant Muslims, the suit, filed in the district court in Alexandria, Virginia, alleged. Plaintiffs in the lawsuit include several CAIR officials, among them prominent Muslim-American lawyers and activists. They also include unnamed plaintiffs described as legal residents and visitors to the country who would, if they left temporarily, would not be able to return under Trump's order. The suit said the order, announced Saturday, reflected anti-Muslim sentiments that Trump expressed during the presidential campaign. "The Muslim Exclusion Order is the as‐promised outcome of Defendant Trump's hateful, year-long campaign which was fueled, in significant part, by a desire to stigmatize Islam and Muslims," it said. Lawyers said the order violates the US Constitution's protections of religious freedoms and the "establishment clause," which bans the government from making laws that favor or discriminate against specific religions.
UN releases $100m for Nigeria, others in humanitarian crises— 30th January 2017
UN Secretary-General António Guterres on Monday, January 30, announced the release of 100 million U.S. dollars for Nigeria and eight others from the organisation's Central Emergency Response Fund (CERF).
Guterres said the release of the funds would help to sustain relief operations in what he termed the world's most neglected crises, according to a statement issued by the secretary-general's office.
The allocation will enable life-saving help for more than six million people in Cameroon, the Democratic People's Republic of Korea, Libya, Madagascar, Mali, Niger, Nigeria, Somalia and Uganda.
The UN chief said the measure was necessary in these countries where levels of vulnerability are alarmingly high but funding remained critically low.
"CERF is a lifeline for people caught up in crises that don't make the headlines but where needs are just as urgent.
"This funding is crucial so that the UN and partners can continue assisting people who need our help so desperately," Guterres said.
According to him, a large portion of the allocation will reach people affected by displacement, one of the most pressing humanitarian challenges in today's world where more than 65 million people are displaced.
"The funding will ensure that millions of people who fled Boko Haram-related violence and conflict in Nigeria, Niger and Cameroon will receive health care, food assistance and shelter.
"It will also bring relief to the internally displaced people as well as refugees from neighbouring countries in Somalia, Uganda and Libya."
He said urgent support would also reach those suffering from malnutrition and food insecurity in Madagascar, Mali and the Democratic People's Republic of Korea.
UN Emergency Relief Coordinator Stephen O'Brien, who manages the Fund on the Secretary-General's behalf, commended Guterres gesture.
Nigerian Imelme Umana becomes the First Black Female President of the Harvard Law Review in 130 Years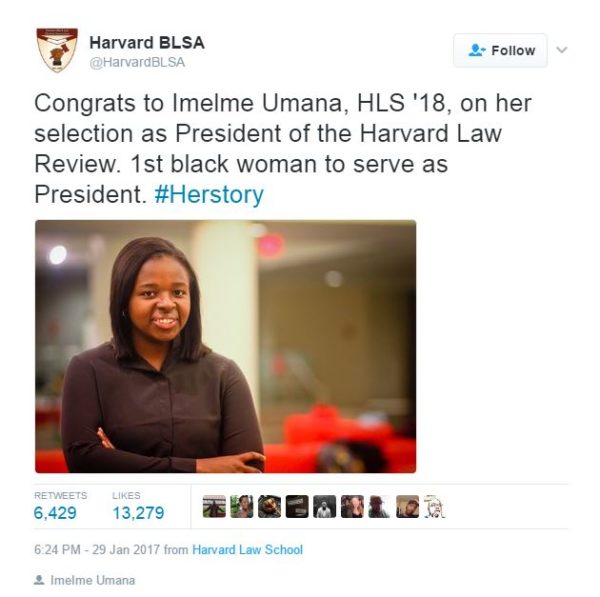 Nigerian Harvard student, Imelme Umana of the Harvard Law School 2018 set, has been announced as the new President of the Harvard Law Review.
Amazingly, Imelme happens to be the first black woman to serve as President.
Congratulations to her!
The Harvard Black Law Students Association made the announcement on Twitter yesterday.
Customs Intercepts 661 Pump-Action Rifles after they were cleared at Lagos Port
The Federal Operations Unit (FOU) of the Nigeria Customs Service (NCS) intercepted 661 pieces of pump-action rifles from China, concealed with steel doors and other merchandise goods, which came in through Lagos port.

The Comptroller-General of Customs, Retired Col. Hameed Ali, made the disclosure while briefing newsmen on Monday in Lagos.

Ali said that the Federal Operations Unit, while on patrol, intercepted a Mark truck with registration number BUG 265 XG conveying a 40ft container with number; PONU/825914/3 along Mile 2-Apapa Road, Lagos.

The consignment was cleared from Lagos port.

The comptroller-general said the truck was immediately taken to F.O.U. premises for physical examination and 49 boxes containing 661 pieces of pump action rifles concealed with steel doors were revealed.

Ali said the rifles were under absolute prohibition, adding that its importation was illegal.

"Such deadly contravention of the law is even more unacceptable considering the fragile security situation in some parts of the country. Already three suspects have been arrested in connection with this illegal importation,'' the comptroller-general said.

The suspects are: Oscar Okafor (an importer), Mahmud Haruna (a clearing agent), Sadique Mustapha (accompanying the consignment to its destination).

Ali said initially the consignment was said to have originated from Turkey, adding that there was mixed-up in the document which finally revealed that the consignment originated from China.

"Investigation has already commenced and I have directed that the drag net should be wide enough to fish out all persons involved in the importation and clearing of the consignment," Ali added.

He said Customs officers who were involved in the clearance of the containers were in the custody of Comptroller Mahmud Haruna of FOU Zone "A''.

Ali said that the seizure underscored the determination of the service to enforce all laws relating to importation and exportation of goods into and out the country thereby contributing to the economy, security and well-being of the country.

<!-comments-button-->