When Stephanie Linus' Dry movie bagged several awards at this years' AMVCA, I wondered why but now that I have seen it on
Iroko TV
, I can't help but commend Stephanie! She deserves all the awards and more! We honestly need more movies like this!! Educative and meaningful. The
values this movie withholds such as forgiveness, letting go, a life of
purpose can be applied to all other aspects of life.
Story line:
Dr Zara, a successful African doctor living in Wales is
determined to stay away from Africa and her horrific childhood
experiences. Due to her mother's illness she is forced to travel to
Africa and confront these painful memories. This take her on a journey
of intrigue, suspense and unbelievable surprises!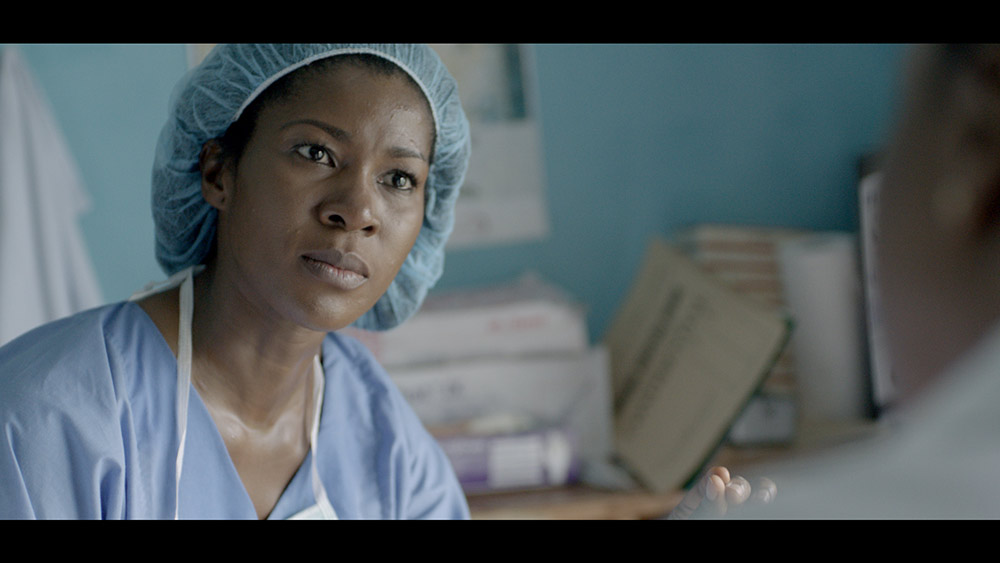 Starring
Liz Benson,
Hakeem Rahman,
Olu Jacobs,
Reykia Attah,
Stephanie Linus,
Zubaida Ibrahim Fagge,
Tijani Faraga,
Darwin Shaw,
Rahama Hassan,
Hauwa Maina,
Norma Izon
Review proper:
The film is ironically, but aptly titled
Dry
;
a simple but very deep name for a heart-rending tale.
Dry
is not really about Dr. Zara.
It is about Halima (played
by Zubaida Ibrahim Fagge), who is 13 years old and is married off to
Sani (Tijani Faraga), a 60 year old man, who constantly rapes her.
Immediately after the traditional rites, Sani rapes Halima. She wakes up
the next morning and says to one of her co-wives: "Uncle bit me. My
body is paining me."


Halima gets pregnant and suffers Vesico Vaginal
Fistula (VVF), after child delivery. Now, we see her abandoned by her
husband and her own father and overly discriminated by the society. They
say she smells. They throw things at her in the market. They say she
disgusts them. Her co-wives want her out. She is thrown out by her
husband and his mother. This is when Zara Robbins (played by Stephanie
Linus) comes into the picture.
For the most part, Dry is excellently made; if the script was
different from the actualized story, then it is well understood.
Throughout the film, we are transported back and forth: Nigeria and
England. The filmmakers may not have known, but an anthropological find
shows that these scenes were shot in the countrysides.
The film subtly
makes a case for doctors in rural areas. This is commendable because
even in the developed world, health workers in the hinterland are better
remunerated than those in urban settings.


Why has the government, at
all levels in Nigeria, refused to provide this incentive to doctors,
nurses, and other health workers, so that they will be motivated to work
in rural areas? Where there is a semblance of this motivation, it is
not enough to attract medical practitioners.

Films like this have the power to disarm
wrongdoers, compelling them to have a rethink. One wishes that the film
will be popularized in the part of the country and other parts of the
continent/the world where child marriage is rife.

Dry

is masterly orchestrated. The more you watch, the more

you want to know what happens to the characters. There is absolutely

nothing the film lacks. Those who don't like it, do so at their peril.

Its cinematography is beautifully patterned and like a journey too far

to do, the audience will find themselves longing for the salvation of

Halima.

The sound track, background music, lightning and acting were all perfect!

One major flaw of the movie is that VVF is presented as a bed-wetting problem rather than a problem of
urinary incontinence? The audience expected some exposition as to why
some young girls escape contracting VVF though they marry as underage
children; in the end, it is not every girl involved in child marriage
that contacts VVF, though it is impossible to tell who will and who will
not just by looking at a girl, a reason every girl must mature enough
before getting married or becoming pregnant.

Also, there was a mistake when the lady at the hospital gives a form to
Halima and her co-wife who brings her to the hospital for treatment,
responds: "You can't read and write?" They speak impeccable English! How
they can't read and write is so magical and illogical. If a filmmaker's
dream is to take his/her work internationally, what he/she has to do,
is to pay attention to details, mostly, language. Linus might have
succeeded in executing the project, but maybe, the characters would have
communicated well in Hausa or whatever language they are bound to
speak. Seeing these Hausa characters meddle in English, at home, was
very unreal.

And then, there is also no clear narrative about the details of how Zara was
rescued by the white woman who she calls mother.

In conclusion,

Dry

is funny and at the same time, sad. But it is a story we will all like for the beauty of its storytelling.

You can watch the trailer below:

<!-comments-button-->