2016 has been a year of baby boom many celebrities in different generes of entertainment. Lots of is still enjying the cries of a new baby(s) in their homes. KFB has a list of 20 of them below….


Chimamanda Adichie
Adichie who debuted her baby bump a few months ago at a writing event in Lagos in a recent interview with Financial Times announced she is now a proud new mum.
According to her; 'this is the first time I'm saying it publicly. I have a little girl. I have some friends who probably don't know I was pregnant or that I had a baby, I just feel like we live in an age when women are supposed to perform pregnancy. We don't expect fathers to perform fatherhood. I went into hiding. I wanted it to be as personal as possible'.
Uche Elendu
Nollywood actress, Uche Elendu was delivered of a bouncing baby girl at West Houston Medical Center, Houston Texas, USA in May, 2016.
Uche shared the good news via Instagram and congratulatory messages have been pouring in from her colleagues and fans.
The new bundle of joy is the actress' second child.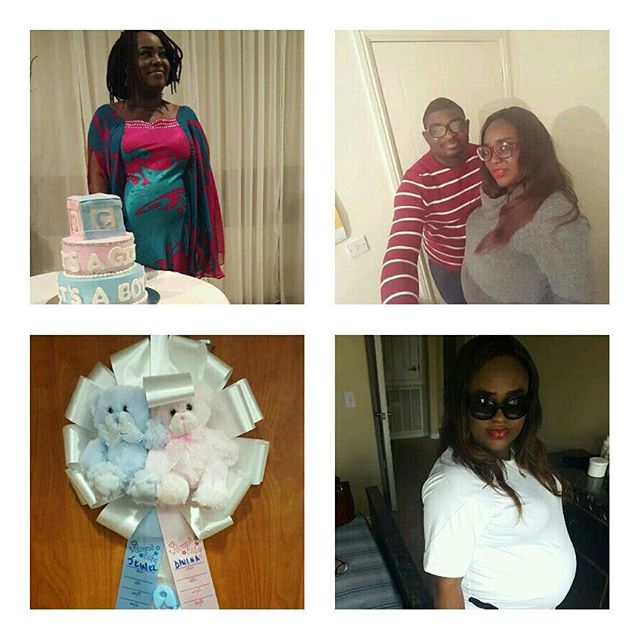 Emem Isong
Star filmmaker Emem Isong and her new husband Nkama Misodiare were blessed with twins – Jewel and Divina couple of weeks ago.
The couple tied the knot in 2014 and are said to be overjoyed with the new additions to their family.
Emem shared the joyous news by saying; What can I say unto the Lord? All I have to say is thank you Lord. For unto us, a king and queen are born. Our hearts are filled with unspeakable joy as we announce the birth of our twin children, Jewel and Divina. We give God the glory for safe delivery. He is indeed an awesome God.






































Gbenro and Osas Ajibade
One of Nigeria's favorite couple, Gbenro and Osas Ajibade welcomed their baby girl earlier than expected. Their new bundle of joy arrived mother earth on the 21st day in June 2016.
The celebrity couple made the iconic announcement via popular magazine, Genevieve.

Di'ja
Di'ja shared a simple break down of the timelines in the videos she posted when she gave birth.
Her delivery caught us all by surprise! Aphrodija and husband Rotimi welcomed a baby boy last month.
Confirming the news, she shared a cute video story on Instagram July 1, 2016. She also confirms that she is back in Lagos and ready to for a great musical come back!

Ivie Okujaye
Ive Okujaye and her husband, Ezie Egboh welcomed their little bundle of joy on June 1, 2016.
'Our Baby Girl decided to enter the world The Day Before Her Daddy's Birthday !!!! Thank You, Jesus!!!! The feeling is even more amazing than I would have ever guessed!!! #July1stBaby #July2ndDaddy!!! #Miracles #Gratitude #Family #Love.. God's plans are always the best!!!! Thank you, Lord!!!!!!' she shared alongside a photo on Instagram.

Olaide Olaogun
Nollywood actress and former face of Lux, Olaide Olaogun delivered a baby boy on Saturday, May 7 in the U.S.
Olaide, who is mostly known for her roles in the Super Story TV drama, got married to her sweetheart, Babatunde Ojora on Thursday, December 3, 2015.

Kenneth Okonkwo
Kenneth Okonkwo's wife gave birth to a baby boy in the U.S on Friday, May 6, 2016, after nine years of marriage.
Popular Nollywood actor, Kenneth Okonkwo and his beautiful wife, Ifeoma welcomed their first child – a baby boy in the U.S on Friday, May 6, 2016, after nine years of marriage.
The bundle of joy was delivered at The University of Maryland, St. Joseph Medical Center. And the couple are back to Nigeria few days ago.

Dotun Taylor
Filmmaker, Dotun Taylor and his wife, Modupe had their third child on May 5, 2016. The new baby was christened Madiba Akindamola Eniayomide Taylor.

De Don
Nigerian comedian, Iruvwe Okeremute popularly known as 'De-Don' welcomed his second child on April 12, 2016.
The humour merchant told our correspondent that the baby girl was born at Prince George County in Maryland, USA.

K Solo and Wife
Nigerian music producer, Solomon Oyeniyi a.k.a 'K-Solo' and his girlfriend, Matop Nyenty welcomed a baby boy on Saturday, April 2, 2016 in Lagos.
Matop, who hails from Cameroon is a graduate of the University of Lagos.

David Nnaji and Jodie
Nigerian singer, Jodie and her husband, David Nnaji, who is a Nollywood actor, welcomed their first child, a baby boy on April 9, 2016.
The couple, who got engaged in September 2015, held their traditional marriage on Saturday, October 31, 2015 in Warri, Delta State.
Ushbebe
Nigerian comedian, Justice Nuagbe otherwise called 'Ushbebe' welcomed his first child, a baby boy on March 15, 2016.
His wife, Annette Nuagbe delivered the baby, who has been named Nolan, in Atlanta, United States of America.
The couple got married on November 23, 2013 in Edo State.



Tonto Dikeh and her hubby.
Nollywood actress, Tonto Dikeh gave birth to a baby in the U.S on February 17, 2016.
The controversial actress announced the birth of her child on Instagram saying 'Today I experienced the Greatest Miracle known to man. I can't begin to explain the joy I feel, it's super awesome.
I bless the Lord almighty for his protection/Safety and Strength and the birth of my Baby. My Pregnancy was such a beautiful one (Stress-free, Lovely, Spiritually great, Healthy and safe).
'Please join me in welcoming my Baby into a perfect and loving World that GOD, My KINGKONG and I will create. I Am overwhelmed and over joyed, I am a Mother now. Woow, that's something I never saw coming but God is indeed the master planner of our lives.
'His grace, Love.mercy, unlimited blessings, protection, Peace and so much more than I can express I have known and can testify to. Thank you God(the father,the son and the HolyGhost) for this blissful journey. I indeed gave birth like A Hebrew woman'.
Yomi Gold
Popular Yoruba actor, Yomi Alore popularly known as Yomi Gold and his wife welcomed their second child on Valentine's Day, February 14, 2016.
The baby was born at the Brookdale University Hospital and Medical Center in Brooklyn, New York.
Yomi is married to Victoria Ige, a U.S-based Nigerian nurse. Their first daughter is named Aliyah.
Mr Ibu
The wife of Nollywood comic actor, John Okafor better known as Mr Ibu, Stella Maris gave birth to a baby boy in February.

Adaora Ukoh
Popular Nollywood actress, Adaora Ukoh was delivered of a baby boy in March.
The new tot, which is her second child, was born at Saint Peter's University Hospital, New Jersey, United States of America.



Bimpe Akintunde
Popular Yoruba actress cum producer, Bimpe Akintunde popularly known as Omotodun, welcomed a baby girl on February 12, 2016.
The Ijebu, Ogun State-born actress is the producer of popular Yoruba flick, Wasilat Coded.

Jeremiah Gyang
Music producer, artist and songwriter, Jeremiah Gyang welcomed his second child, a baby girl with his wife, Ladi in January
The couple, who got married in August 2010, welcomed their first child on Friday August 17, 2012.

VC Perez

Nigerian music producer, VC Perez and his wife, Lilly Perez had their first child together, 5 years after getting married on Saturday, January 23, 2016.

VC Perez is responsible for producing most of Naeto C's first songs and a few songs on D'banj's sophomore album, among others.

<!-comments-button-->