A few weekends ago, we brought you photos from the wedding of veteran Ebenezer Obey's daughter, Orejaiye Fabiyi to Oba Sejiro Olalekan Ogungbe James - the Aholu of Kweme Kingdom, Badagry, in Abeokuta. Now we have got their thrilling love story, enjoy below: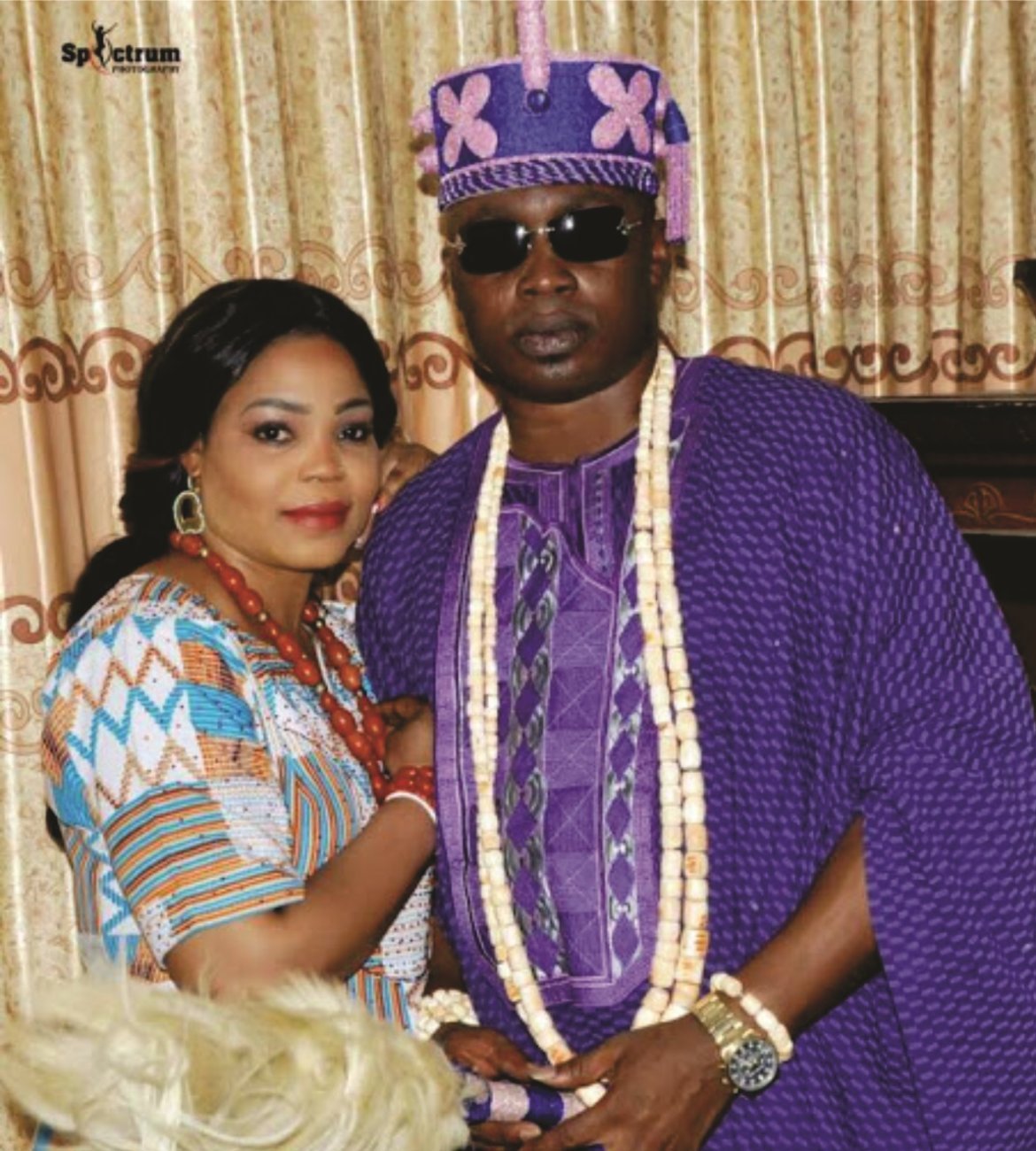 Let's talk about your marriage to Kabiyesi Kwame of Badagry, how did you meet him and why a king?
Don't let us start (Laughs). My husband walked into the palace of my uncle and my guardian angel. I just came on holiday and I went to see an Uncle of Mine in Ota and he just walked in.
My uncle was talking to me about marital life and fortunately my husband knocked at the door, came in and said he had not seen my uncle for a while. At that point in time, my uncle was coming in-between him and I to be honest. Immediately I saw him, the first thing that came to my mind was 'a very handsome guy', but immediately I knew he is an Oba, I thought his housewould've been filled with all sorts of women. Later he confirmed to me that he got attracted to me too. So, it was a mutual immediate attraction for us. So, I have shut down all I was doing in United Kingdom to be with my husband.
How long did you date?
We dated for 2 years. It was between 2015 to early 2017.
How easy was it for you to pack up what you were doing in United Kingdom to settle to be an Oloori?
It was very difficult. This is because I have a very fantastic job. I have passion for what I do. I am a Nurse, a registered Nurse. I am a sister at a private company in UK.
I was also a GP surgery. I had a very fat salary. You know women love money. And you know in UK, if you hold the certificate that I hold, you can also work as a Nurse and also have your limited company.
So, I was so comfortable. For everybody who knows my job in United Kingdom, they believed I could not leave UK.
It was a big struggle. But my father used to say that "Ibi ti isura eniyan ba wa ni okan eniyan wa" (your mind is where your treasure is). At one point, I was always flying in and out. Initially, it was once in 2 months. Later, it was once in a month. So, we both realised he was spending much on ticket. He always travel down and when he had a meeting he would fly back. So, the two of us were flying in and out and we knew it was crazy and I have to settle down. I could not ask him to leave his kingdom. The sacrifice has to be made from me. It was worth the while though because we both enjoyed it. I am happy because the Lord is on my side. The Bible says "when the Lord is for you, nobody can be against you". He who finds favour in the eyes of the Lord, has found favour all around'.
How was growing up for Orejaiye Fabiyi?
Don't go there (laughs). Let's just praise God for his faithfulness in my life. I attended Naiansen College in the UK. After my Diploma programme in Desktop Publishing, I went for my foundation degree, education and community studies and had a stint of child psychology and that is what Nigerians call HND. I worked as Coordinator and Team Administrator with a Health body degree. I then went to do my Bachelor's degree. And I have studied Pathology and Pathology and Biology.
Why is your wedding coming up on Thursday and not Saturday or Sunday?
It is the bride's family that picks a date. My father is a very busy man and weekends are his days of work. So, it would have been on Sunday 4th of June, 2017 because that day is my birthday. But on Sunday, my father must be at the church. So, the only alternative day close to weekend is Thursday and my husband wants our wedding to hold in my month and the closest is Thursday.
So, it my father's decision to play host to his family on Thursday. Left to me, it won't be on Thursday.
How is it like marrying a king knowing he might marry another wife, how prepared are you for your new role?
The Bible says: "If the Lord didn't build the house, the worker Works in Vain". So, for that question, I will say it as a worker of the Lord in a kingdom call Kwameh. I will say the Lord will help me to do that. I decided according to His riches in glory in Jesus' name. (Amen). As I said, the Bible says: "Ti Ko Ba Si Oluwa to Ko Ile na, Osise se lasan ni". So I pray to be the best for my husband, the best for my family, the best for Kwameh Kingdom and the best for my children. The best for United Kingdom. I am bringing forth what United Kingdom has instilled me to Kwameh kingdom. God has brought me this far in life. (She begins to quote different verses of the Bible). So, as far as I am concerned, I pray to be the Queen, whom my husband desires.
It is stated that there is no jealousy in the palace, how will you feel If he brings in a new wife?
Well, I don't need to be jealous of anybody. My husband is a very educated person.
Being a King means, he can bring in a New wife, do you have a Senior wife?
No I don't. My husband had a late wife. May her Soul Rest in Peace. From what I gathered, I learnt she was a very fantastic Oloori, so I pray that I am good enough to beat her record. She was very nice. My step children told me, "our mum has reincarnated".
I think the Lord is doing a great job in my life.