Aisha Buhari was recently in the news again for 'flaunting' a luxury item, a diamond steel watch by Chopard.

According to Bellanaija, Mrs Buhari was spotted wearing the timepiece in New York, on the 19th of September, alongside her husband President Buhari, attending the 71st United Nations General Assembly (UNGA 71).
Not long after the first photo of her surfaced on social media, folks were up in arms, sniffing it for details, and the remarkable diamond and steel watch stood out.
It reportedly goes for a whopping £10,000, and for a country in the throes of recession, folks have termed it wasteful, as usual.
To refresh our memories, see the other times the Wife of the President was called out for totting expensive accessories.
2. The N40m Hermes Birkin Bag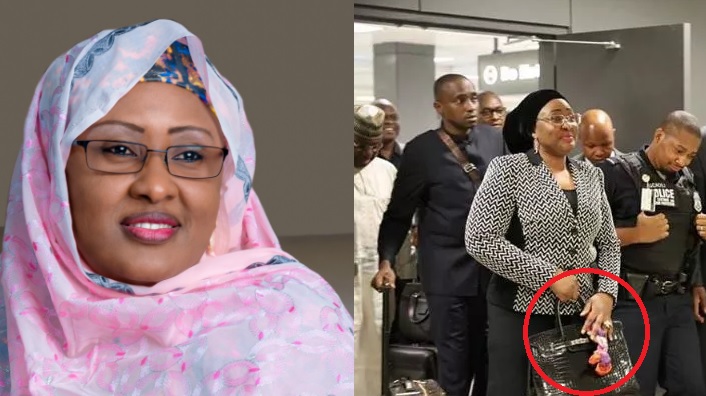 In August, Mrs Buhari arrived Washington DC, United States, for a week-long visit which many people assumed to be a political statement.
Recall that the Wife of the President was named by Ekiti state governor, Mr Ayodele Fayose, as having links to the infamous Halliburton scandal. Even though she threatened legal action against the vocal governor for the unfounded claims, Fayose dared her to pay a visit to the US to prove she was not a fugitive of the law.
And she stormed the United States in August, but another drama ensued after folks spotted the Hermes Birkin Porosus Crocodile bag she carried, whose price on ebay starts at $105,000 (N40 million, if converted using the parallel market rate).
Mrs Buhari was dragged, but she never responded to the criticism.
3. The £34,500 Cartier Baignoire wristwatch



In June 2015, after her official portraits surfaced on social media, news broke that the wristwatch she had on in the photograph was a Cartier Baignoire wristwatch which went for £34,500 (about N10m at that time).
The outrage swept social media in a storm, and with the Chopard watch drama, it is obvious her outfits will continually be picked apart by critics, and she may continue to keep mum in the face of intense criticism.

KFBers, what do you think?