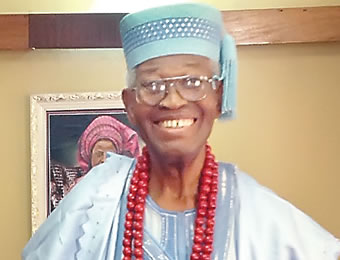 The Alaaye of Oke Aiyedun in Ikole Local Government Area of Ekiti State, Oba Jacob Fatunase Ala, Okunoye II, is a man of many firsts. He was the first principal of Ado Grammar School, Ado Ekiti; the founder and life president of Inland Club, Ado Ekiti; the first chairman of Ondo State Broadcasting Corporation, the first Vice Principal of Offa Grammar School, among many others. He bestrides his Oke Aiyedun town as the first truly educated monarch and has brought a lot of innovations to the community since he ascended the throne 27 years ago. He discussed some of his experiences in 100 years of life, with SAM NWAOKO in this interview. Excerpts:


How does it feel to be this active, cheerful and obviously exceptionally energetic at a splendid 100 years of age? What is the secret?
I don't think I have enough words to describe exactly how happy I am to be in this position. As a child, my mother told me that for a period of four months after I was born that I was neither here nor there. The face showed life but I was all skeleton. I survived it. I also had smallpox which killed very many people who were my age, younger and older in my community. I survived it. Ups and downs of life as I live, I survive them. When I was coming on board as the traditional ruler, the fears expressed by very many was that I wasn't going to last beyond three to four years on the throne. That was the main objection to my nomination, that I wasn't likely to live long. God knows exactly how He plans His things. I'm already in my 27th year of my administration and 100th year of my life. Why should I not be cheerful and happy?
In July 1930, a group of us who were youngsters in the church came together and we were called the Egbé Omo Ogun Krístì. We were over 30 at that time. Today, I am the last surviving member of that group.
I was the foundation chairman of Ondo State Broadcasting Corporation, that was after my retirement. After I finished my contract there, I was still brought back by the then governor, Chief Michael Ajasin, as a commissioner in the Civil Service Commission. I've been all over these places, hale and hearty. God granted me that. My only deformity is that I can't hear with one of my ears. And in my family, it is said that it is normal, that as you grow old you lose your hearing. I don't know how it happened, but in my own case, I'm not totally deaf. But for my cataract that was mishandled.

Your Christian faith seems so dear to your heart and in your thought?
I had the benefit of being baptised as a child because my father was a Christian. Therefore, I grew in the Methodist Church. When the time came for me to be on my own and work, when I was at Fourah Bay College I took a removal notice from Ibadan. As soon as I showed it to the reverend gentleman who was in charge of the Methodist Church in Sierra Leone, he gave me a note to the reverend gentleman who was in charge of the oldest and the biggest Methodist Church in Freetown. I presented my certificate and he said you are free to take the pulpit anytime you feel so. I would have, but I was spending so much time on my study that I couldn't avail myself of that opportunity.
When I came back, I went to Offa Grammar School, which was more Muslim than anything. I was the first vice principal of Offa Grammar School.

What was growing up like in Aiyedun, looking at the changes you've seen?
If likes continue to produce likes, there wouldn't have been evolution. It was because there had been progress. I remember that one of my teachers told me that the giraffe developed its long neck because it takes delight in eating the soft new leaves on top of the tree, therefore it continously stretches its neck. I read that a certain type of fish that had no eyes. They didn't need it because they lived in the darkest past of the sea and everywhere was completely dark. What you don't use becomes moribund. Because they live in the dark and it was completely dark, therefore they didn't need any eyes. So what you need is what you develop as you grow along. That is progress. Every group in the community, even up to Odo Aiyedun, including women and youth groups, now keeps records. It brings to mind decisions taken at meetings and how such decisions were reached.

As a Christian, how did you handle the sacrifices and fetish actions required of you as an oba in your community?
Yes, in those days, you cannot be a titular chief or any sort of thing like that without being involved in some fetish things and the like. But I easily managed the situation in my own case because you have your sphere of influence and I have my sphere of influence. You are asking me to come along and sit on the throne to administer. That has nothing to do with religion. I have to face nothing more but my administration. What you are doing is religion. If I am not interested, that's all, keep me out. You cannot force me and say because you're so and so, you must come and join us. Look, if it is that, I will go back the way I came. You know these days of having vigils and vigils and vigils, the question was put to me. The people who belong to the fetish sort of group would want to come out anytime and disturb people because they must not be seen in the dark. I said okay, let us work out a compromise.

You must have been a very active young man…
…Am I not young now?

I mean when you were much younger than 100, you must have been very active?
If you don't remain active, you become moribund and you are packed and put by the side. You must be active and calculative in whatever you do.

As a strict, disciplined person, how did your wife cope with you?
Very, very, simple. She knew my rules. My rules are very simple. I bring up issues and we both agree. That's what we are going to do. It is the woman who takes care of the home. Don't hide anything from your wife. If you hide anything from your wife, the day she discovers that you're hiding certain things, you get into trouble. Be very plain. I had one or two children out of marriage. I didn't hide it from my wife. I let her understand that I fathered them. But since you came on board, that's the end. If anybody comes along when I pass on to say that he's older than the baby of the family, disown him. My baby of the family is already 51 years. So, if anybody younger than that comes along claiming that I fathered him, tell him that he is a bastard.

So, polygamy was out of the question in your days…?
What do I want to do with polygamy? You want to play manhood and show her what?

Where did you grow up?
My beginning was here in Oke Aiyedun. Between 1926 and 1930, I was an 'osomalo' with my father. We dealt in textile materials and so on. What 'osomalos' did was that if I wanted my money from you, because we normally sold on credit, and you tell me you don't have my money, you must find it. The day I set my eyes on you and I want my money, you must get it for me! How I played the trick, I wouldn't know. I would play the trick that would make people say, look here, unless you give this man his money, he will kill himself… That's why we say 'osomalo'. I'm going to squat, I will not even sit before I get my money. There were several episodes of that.

Which primary school did you attend?
The Methodist Primary School at Aiyedun here. After the primary school, I taught for a year as a junior teacher. It was a must for the Methodist. Then I went to Wesley College, Ibadan to train as a teacher. Then I came back to teach here, went to Kogi to teach in primary school. After three years in primary school, I went back to my alma mater to teach. A lot of people passed through my fingers between 1945 and 1948 and then again between 1975 when I finally retired from service and 1979 when Ajasin came on board. Teaching was my profession. When I was a pupil teacher in the primary school, I was a flogger. When I wanted to give you six strokes of the cane, I tell you to stretch out both hands because I couldn't waste my time raising my hands six times. The two hands must be there and you must keep steady otherwise I begin again.

Which are some of your remarkable students you can still recall?
My wife was one of the many students I treated in that way. My own wife!

Did she come back telling you some of those things?
Oh! Yes… They are still living today, one of her friends had said to her: 'Ha! You're going to marry that man? Ha! You are going to receive a lot of whipping! But I confess to you that we were together all the time till she passed on, we never settled any quarrel with somebody coming in. If she had any disagreement or she felt bad about anything, we settle in bed.

Which other students do you recall, apart from your late wife?
I recall a few of them, and that is why they have all said they want to honour me with their presence at my 100th birthday celebration. Some of them who recall my attitude and the way I brought them up said they must honour me. I remember Matthew Adepoju who is a practising lawyer in Ibadan. Mr I. A. Babalola is also a lawyer, he was my first housemaster when I was at Ago Iwoye Secondary School. The way you relate to people will make them cling to you.

Looking at your nuclear family, didn't your strict ways tend to make any of your children defiant if they find your strict ways difficult?
How can they find it difficult when I brought them up on point of discipline? You are growing up and from the child is brought into this world, this is how the child is going to be fed and when it is time to go to school, you let them go to school at the right time. Give them every opportunity that they want to go to school. They come back, you give them their meal. I don't normally eat any evening meal. This is because when I complained to Mrs Solaru, a nurse, that I was having constipation, she recommended light meal in the morning, very heavy meal, if you like, in the afternoon and very light, if you have anything, in the evening. I kept to that, my children kept to that. I had a rule in the family, if your last meal for the day had not been completed and finished with by sunset, you would go to bed on an empty stomach.